History
1 Company, 80 Years
and many highlights


1933 Year the company was founded
After completing his education, Albert Pasvahl opens his first branch
office at Spaldingstraße 2 (Markthof). At that time, Albert Pasvahl's job
description was an "Independent travelling salesman and
representative in Hamburg". Merchandise includes enamelled
hardware, axes and hatchets.
1939 Continued by Erna Pasvahl
For Albert Pasvahl the outbreak of war means being drafted to the
Wehrmacht. In his absence his sister manages the company until July
1943 (bombing raid in Hamburg). The branch office is completely
destroyed.
1946 New start
The company "Albert Pasvahl, Großhandel & Export, Werkzeuge &
Bazarartikel, Hamburg, Königstraße 15" [Wholesale & Export, Tools &
Bazaar items] founded January 1, 1933 resumes its wholesale and
foreign trade business on January 1, 1946. The product range includes
agricultural equipment, screws, nuts, rivets and bolts. Exports to
Denmark, Sweden, England, South Africa and Australia again lead the
company to success.
1950 Move and workshop
Early 1950 the company moved to Kleinen Schäferkamp Nr. 32/43.
Albert Pasvahl's activities focus on the successful assortment: screws,
nuts and accessories. In addition, a small connected workshop is
opened for flexible production of larger diameter screws.
1960 Double move and first specialisation
The company continues to grow and first moves to Weidenallee 40,
then Alsterdorfer Straße 515.

The workshop is discontinued. The first step towards specialisation is
made by stocking various brass screws and plugs.
1970 Full specialisation, final company offices and new warehouse
Albert Pasvahl makes the transition to pure screw specialist and in this function primarily dispatches to screw trading firms from stock. A new warehouse and office facility is built at the company's current location Oehleckerring 23. With the space now available, the company implements modern warehousing and business structure. Services are further clearly supported by the introduced IT.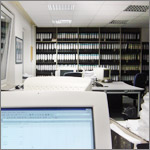 1981 IT expansion
The once again expanded inventory size and the newly implemented order processing means even more flexible and more extensive delivery options for customers. Thus, IT as an important factor in commercial order processing is again substantially expanded.
1983 50 year anniversary
On January 1, 1983 the company has been in existence for 50 years. A good occasion to properly celebrate the founder Albert Pasvahl and his wife Irma Pasvahl.
1990 First exposition and noticeable sales boom
First exhibit of screw specialist Albert Pasvahl at the International Hardware Expo in Cologne.

Sales exceed the 10 million mark.
1991 Company founder passes away, continued by Irma Pasvahl
The company's founder, Albert Pasvahl, passes away at the age of 76. The company is successful continued by his wife Irma Pasvahl according to his wishes and in consideration of the changing market situation.
1993 Expansion of product range
Custom and drawing parts are added to the product range and successfully positioned in the market.
1995 20% of sales from custom and drawing parts
The importance of marketing leads to growth in sales of custom and drawing parts and reaches a sales share of 20 per cent.
1996 DIN EN-ISO 9001 Certification
Introduction of the quality management system DIN EN-ISO 9001 once again optimises the quality of the company's services. This lays the system-supported basis for maintaining and ascertaining customer requirements. Certification by TÜV-Nord follows the same year.
1998 Expansion of stock programme and product range
The stock programme is again significantly expanded. Existing stock is consolidated by adding new dimensions and materials.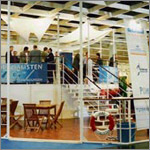 2001 "Welcome on Board" at the Hardware Expo
Visitors and customers find Albert Pasvahl at the hardware expo in Cologne in a new location and with a distinct fair booth: "Welcome on Board" with your specialist!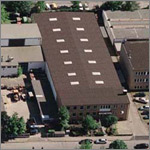 2002 Extensive restructuring
Completion of extensive restructuring, modernisation and construction measures. The introduction of a new IT solution for the entire company now allows Albert Pasvahl to respond to customer enquiries and requests even more flexibly and quickly.
2004 New ERP system
Implementation of a completely new ERP system to ensure efficiency of work processes in order to meet the increased requirements of the market.
2007 Warehouse expanded with high-rise racks

Inventory capacities are expanded to increase availability for customers. This allows for even more flexible and quicker order processing.
2009 Exterior building renovation

Office facilities are extensively renovated with the goal to reduce energy costs. During this renovation a photovoltaic system with a size of approx. 130m² was installed, which meets about 1/3 of power usage. This reduces heating costs by approx. 40%.
For the future
To guarantee customer satisfaction Albert Pasvahl is committed to quality-oriented cooperation.

In this sense, we will continue as an efficient and reliable company for our trade partners.
Helmut E. Kindler
Owner and Advisor to the board, Albert Pasvahl (GmbH & Co. KG)